Important components in refrigeration applications
Installed for a wide range of duties in refrigeration applications worldwide, Alfa Laval's high performance Brazed plate heat exchangers (BHEs) offer highest heat transfer performance with maximum reliability and cost efficiency.
The two typical equipment used in refrigeration are chiller and heat pump.
Chiller
Chillers are cooling water or brine and rejecting the heat to air or water. The water is transported by a hydraulic system through different types of heat exchanger to cool air in an air conditioning system or to cool manufacturing or industrial processes. Two basic systems are normally used to drive chillers: a compressor driven by an electric motor, based on a vapour compression refrigeration cycle; or a heat-driven system (steam, burning natural gas), based on an absorption refrigeration cycle.
Heat pump
Heat pumps are a type of water chillers which can also run in a reverse cycle, also called a water-source heat pump. In this case the primary function is heating water and rejecting the heat to air or water. The heated water warms up air in the air conditioning system. Another variation of this system is ground source heat
---
Technical specifications
AC230 brazed plate heat exchanger with a single refrigerant circuit unit. It is suitable to work as an evaporator and as condenser.
CB60, copper brazed plate heat exchanger. The brazing material seals and holds the plates together at the contact points ensuring optimal heat transfer efficiency and pressure resistance.
AXP52 is a brazed plate heat exchanger with thin external frames that withstands operating pressures of 130 bar. AXP52 is specially designed to fulfill the need when using CO2 as refrigerant in subcritical and transcritical applications.
---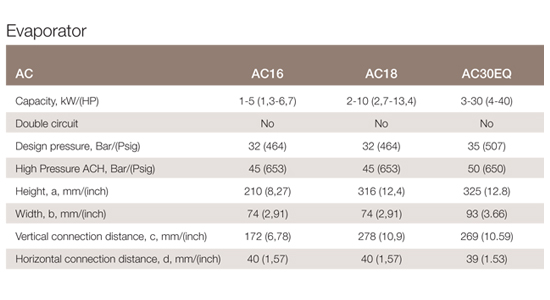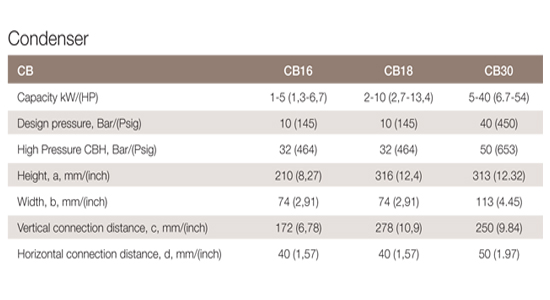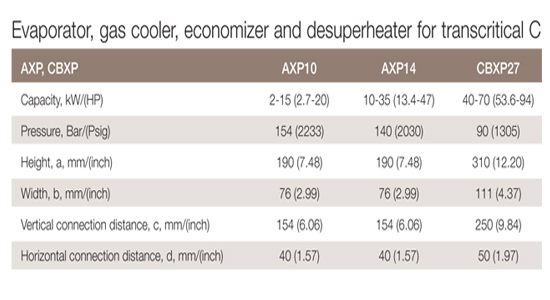 ---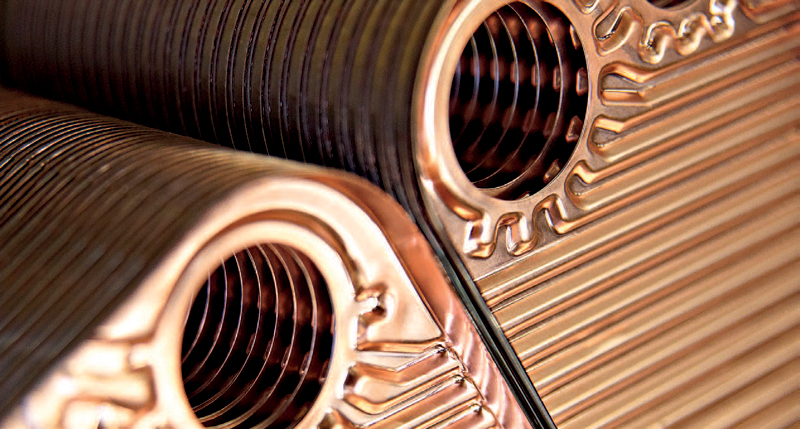 pumps, using the earth or water surface to take the heat.
Refrigeration systems
The BHEs provide an efficient solution for a range of functions in the equipment in these refrigeration systems. The most common of these involve transferring heat from two basic media: the refrigerant
as the primary fluid (HFC or natural gas) and water or brines as the secondary fluid. Alfa Laval offers a complete portfolio of BHEs for the following applications:
• Evaporator (dry expansion) to cool water,
• Condenser to reject or recover heat to water,
• Desuperheater for partial heat recovery to water,
• Economizer to cool liquid refrigerant and superheat vapour refrigerant,
• Subcooler to cool down the liquid refrigerant,
• Intermediate heat exchanger in the absorption cycle to preheat the diluted solution and to pre-cool the concentrated solution
• NEW! Gas cooler (transcritical CO2) to reject or recover heat to water.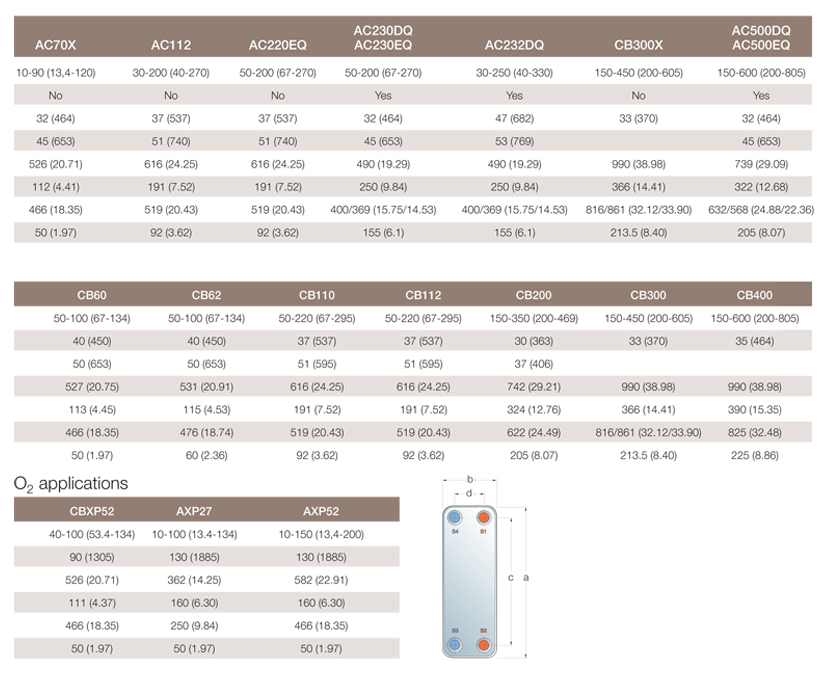 ---
---