Six sound reasons to buy your PHEs from the market leader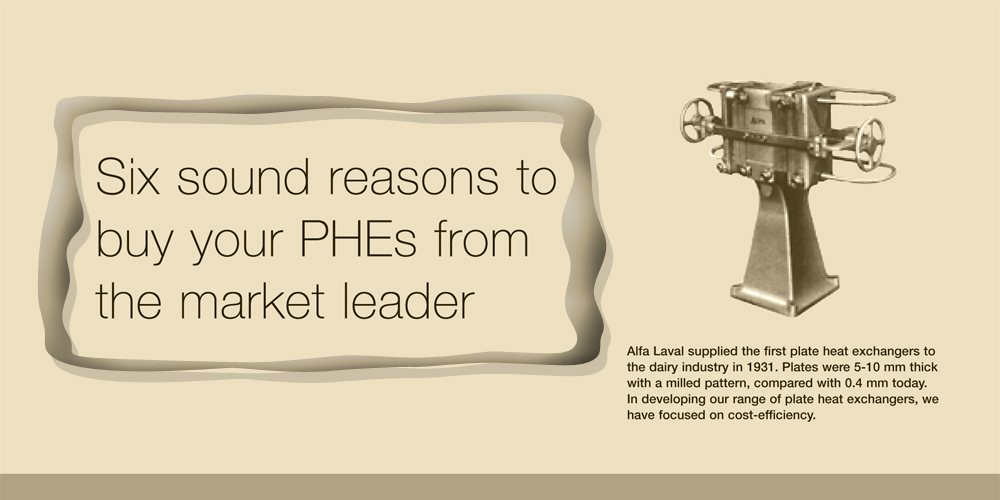 1. Technology that saves you money
The result of decades of development and testing, Alfa Laval plate heat exchangers utilise well-proven materials and advanced designs that optimize performance. Most important of all, they reduce your operating costs and save you money.
2. Service-friendly designs
Service-friendly designs ensure that even the largest Alfa Laval PHE can be serviced rapidly and easily by one person using standard tools. This reduces downtime, enhances safety and ensures a longer equipment life-time.
3. A wide range of solutions
Let us advise you on the correct solutions for your specific needs. Alfa Laval PHEs come in a wide range of sizes and capacities. Different plate patterns are available for various duties and performance specifications. A range of pressing depths from 1.5 mm to 11 mm ensures an optimal plate design for any duty. Two-pass plate packs can give double capacity in the same floor space
4. Full compliance with PED
All Alfa Laval PHEs comply with the European Pressure Vessel Safety Directive, PED, in terms of mechanical and materials specifications. They can also be delivered according to other relevant standards, such as ASME. Various national codes are also available.
5. A partner you can trust
Genuine application know-how and long experience make Alfa Laval the ideal business partner for heating and cooling. Rely on us to supply the most cost-effective solution for your specific needs – we won't let you down.
6. Fast deliveries and service worldwide
Alfa Laval is a truly global company. Our regional distribution centres serve Alfa Laval facilities and distributors worldwide, ensuring fast delivery to customers. We also have more than 30 Alfa Laval PHE Service Centres throughout the world. Wherever you are, talk to
us, we're only a phone call away.
Choosing Alfa Laval makes sound financial sense
---
---